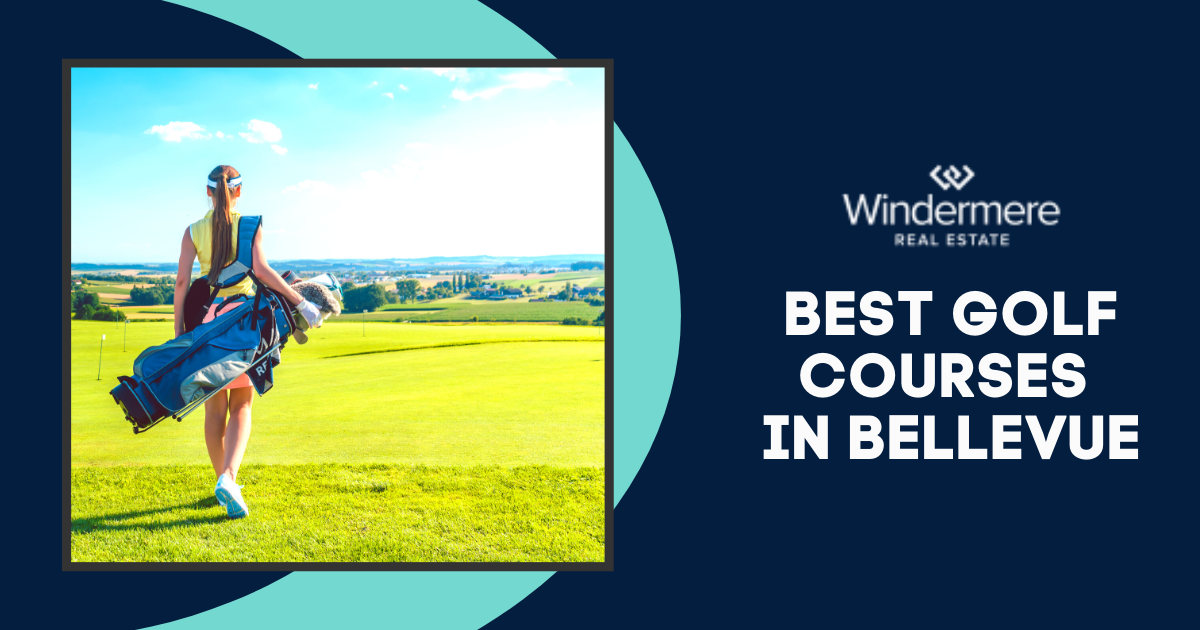 Best Golf Courses in Bellevue, ST: Where are the Best Golf Courses in Bellevue?
The gorgeous land in the Bellevue area features incredible views of mountains and city life, and vast terrains with slopes and small waterways. Aside from traditional outdoor activities like hiking and fishing, another sport activity stands out: golf. Several public and private golf courses can be found in the Bellevue area, creating diverse recreational spaces for all skill levels while also contributing to land conservation efforts. Whether you're interested in buying a golf course home in one of the best Bellevue neighborhoods or just want to spend a day out on the green, Bellevue has the best golf courses for you. Here are some of Bellevue's most popular golf courses.
Bellevue Golf Course
Since 1968, the Bellevue Golf Course has served the community as a leading public golf course that is open year-round. With 18 holes and par 71, there are five different sets of tee boxes each designed to align with particular skill levels spanning the entire range of abilities. Even the most ambitious golf students can find the accommodations they need here, since there are golf tutors available all the way through PGA-certified instructors.
Newly updated as of 2015, the driving range is both heated and fully lit. The course itself features all kinds of interesting golf challenges, including changes in elevation and slope. Despite its challenges, the course is actually accessible and allows for either short walks between greens or easy riding. Forty-eight golf carts are available for rental.
Community is an important part of this course as well. To that end, a men's club as well as a couple of ladies' clubs are in place to encourage healthy, fun competition at every skill level. There is even the local Bellevue City Amateur competition that offers shop merchandise credit to its winners.
Tam o'Shanter Golf and Country Club
This private golf course is actually part of a greater country club that also includes a pool, tennis courts, basketball courts, volleyball courts, a recreational park, and clubhouse. It is an amenity that belongs to a private residential community just outside of Bellevue, although it does host up to six external golf competitions every year.
This golf course was opened in 1967, the year before the Bellevue course opened. It is a par 71 course that also features tee boxes for every skill level. But the accommodation of all levels is not limited strictly to recreational play. Although Tam o'Shanter hosts one of the largest youth golf programs in the greater Bellevue area, it also hosts competitions regularly from February through November. Additionally, there is both a men's and ladies' club that hosts competitions for adults as well.
Glendale Country Club
Touting itself as the premier private country club in the Bellevue area, Glendale Country Club started in the 1920s and has been going strong ever since. But setting aside the traditional luxury and camaraderie of a country club, Glendale prides itself on having a positive impact on the community.
Glendale is known as an Audubon Sanctuary Property, which helps the land not only serve the game of golf but also protect the wildlife and land. Given the size of golf courses, this makes a lot of sense. In addition, Glendale is a founding member of the First Green program that helps use the golf course land to teach STEM to school students.
Before any of the other country club amenities were introduced, Glendale was a golf course. This part of its legacy takes precedence. Glendale is an 18-hole course with a slope rating of 138 and 6,663 yards. Eleven State Opens have been played at this course.
But this course is not just for the pros, although PGA professionals are available to instruct and elevate anyone's golf game. Women's and junior programming is available to facilitate competition and community. A pro shop, locker rooms, golf carts, and speed carts round out the amenities offered on this course.
The Golf Club at Newcastle
Newcastle touts itself as one of the leading golf courses and event hosts in the Pacific Northwest. The Golf Club at Newcastle has more holes than any of the courses reviewed so far, with thirty-six holes in the middle of well-maintained grounds that are surrounded by amazing views of Mt. Rainier and nearby mountain ranges, as well as the Seattle skyline.
The two main courses at Newcastle are Coal Creek and China Creek, each of which offers challenges for players at every skill level. There are five par-3 holes, eight par-4 holes, and five par-5 holes at Coal Creek, and five par-3 holes, nine par-4 holes, and four par-5 holes at China Creek. Both courses have challenges inherent to the natural terrain, including bunkers throughout the course.
The clubhouse at Newcastle is huge, with 44,000 square feet of space that accommodate large parties and major events.
Willows Run Golf Complex
This public golf facility is based out of Redmond, WA. Willows Run Golf Complex has eighteen holes in its main course. Built to accommodate the general public, it also has a par-three family course with nine holes, as well as a putting course with eighteen holes. Willows Run has proudly hosted all sorts of competitions including the 2018 Special Olympics.
Beginner, intermediate, and advanced golf instruction is available in group or private settings for people of all ages. There are also golf clinics available. The instructional facility at Willows Run has a lit and covered driving range, twenty-two hitting stations, teaching studios, and practice areas for short game improvement.
Specific incentives that may draw you to play on the Willows Run course include:
Open to the public year-round
Accommodates tee times, with an online booking option for maximum flexibility
12,000-foot clubhouse includes a pro shop as well as a grill and bar
Opened in 1993, Willows Run is the first golf course in the Pacific Northwest to have been designed by a female golf course architect. The land had originally been earmarked to become an industrial park but was instead turned into this golf course. This has opened the land up for use towards positive environmental efforts, including irrigation with reclaimed water.
In 2013, Willows Run applied to be certified in the Salmon Safe program that strictly controls what fertilizers and other chemicals are used on the course, in order to make sure that salmon habitats are preserved. This is particularly important since the watershed in which Willows Run is located is one of the most vital Chinook habitats.
Overlake Golf & Country Club
The Overlake Golf Club is one of the oldest in the Bellevue area, having opened in 1927, and catering heavily to local residents—including Seattleites. Shortly closed following the Great Depression, the course was turned into pastureland for horses and cattle until the private golf club was bought back in 1952. Since then, the private club has been invitation-only, serving local residents and their guests with not just golf, but also tennis, swimming, and clubhouse activities.
The Overlake Golf Course has 18 holes and has been known to host local championships for both amateurs as well as professionals. It proudly accommodates all golf skill levels and can be easily walked on foot.
In addition, Overlake is another Audubon Cooperative Sanctuary. This helps the golf course maintain itself while also protecting local wildlife and positively contributing to conservation efforts.
Bellevue's Best Golf Courses
The fact that these golf courses can both provide spaces for building community and engaging with the sport while also contributing to conservation efforts speaks volumes to the care Bellevue puts into its people and its land and delivers on the wildlife-loving spirit of Washington. There are options available to accommodate all skill levels and economic statuses so that everyone living in or moving to Bellevue can enjoy the game of golf amidst resplendent water and mountain views of the great outdoors.
If a home in Bellevue is your top choice, contact South Bellevue Partners of Windermere Real Estate/East, Inc. with Seattle Real Estate Central at (206) 280-1911 to get in touch with Bellevue real estate agents who can help you find your Bellevue dream home today.