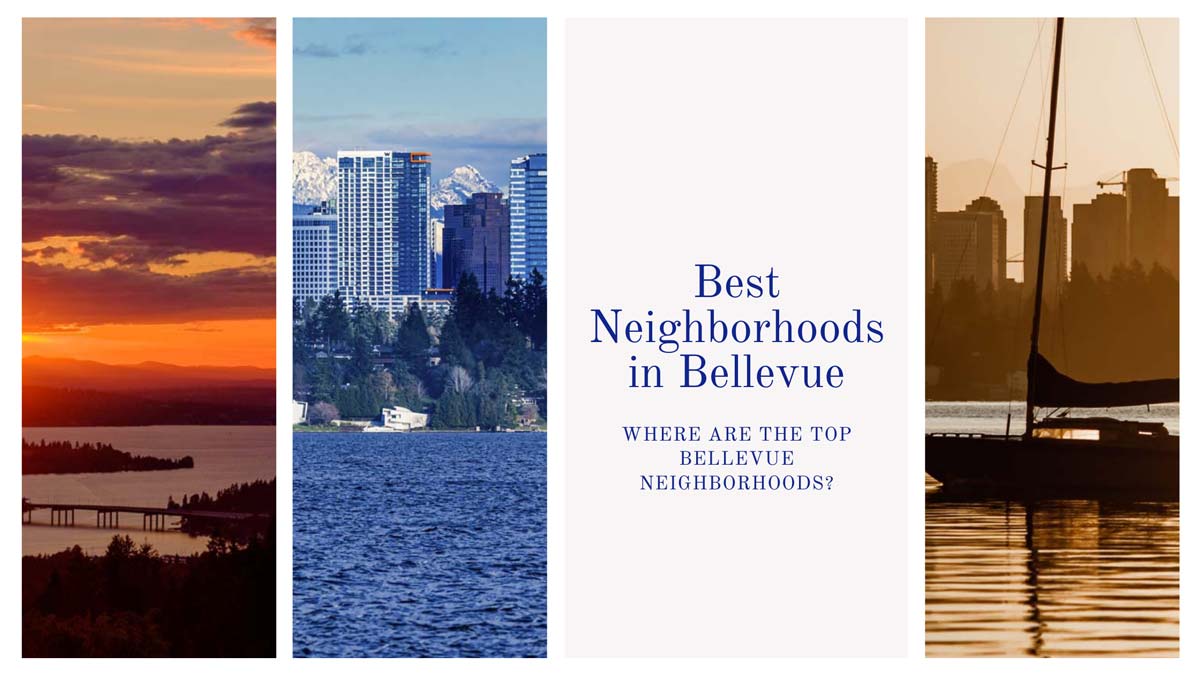 Best Neighborhoods in Bellevue, WA
Located on Seattle's Eastside, Bellevue is the city's largest suburb with a population of over 130,000 people. Bellevue provides its residents the opportunity to live just outside a major city while benefiting from all the charms of a small town and everything the Pacific Northwest has to offer. Situated directly between Lake Washington and Lake Sammamish and with views of the Cascades, the Olympic Mountains, and Seattle's iconic skyline, Bellevue's best neighborhoods feature unique living experiences and beautiful views. Here are some of the most popular neighborhoods in Bellevue for you to keep in mind while house-hunting.
Beaux Arts Village
Beaux Arts Village Amenities
Smallest municipality in King County
Near Seattle and Eastside
Small town feel
Tree-lined streets
Eclectic mix of homes
Private beach
Only about 300 people call the unique town of Beaux Arts home, and its total land area is just 0.1 square miles. The community was founded by members of the Society of Beaux Arts in 1908 as an artists' colony, and it was originally called the Western Academy of Beaux Arts (WABA).
Many of the homes and other buildings have been well-preserved to maintain their historic charm, and Beaux Arts' entire stretch of Lake Washington shoreline is still owned by the Academy, meaning residents enjoy a completely private beach. Today, homeownership in Beaux Arts Village comes with a WABA membership. That affiliation, combined with its waterfront location and small size, has made Beaux Arts one of Bellevue's most luxurious communities.
Beaux Arts Village Hotspots
Somerset
Somerset Amenities
Eastgate Park
Beautiful Views
Nearby School System
Easy commuter access to Seattle
Coak Creek Natural Area
Perched on a hill looming 1,000 feet over Bellevue proper, Somerset has some of the best views in the entire Eastside. Most homes have clear views across Lake Washington to Seattle, and on a clear day, you can even see the Puget Sound and the Olympic Mountains. Residents are frequently seen out walking in this hilly neighborhood, and the area is dotted with many cafés, independently owned shops, small parks, and greenbelts.
Somerset was built primarily in the 1960s and 1970s, so mid-century modern, single-family homes are the most common type. However, there is a handful of new construction, multi-family residences, particularly on the neighborhood's north and east sides.
Lake Hills
Lake Hills Amenities
Larsen Lake
Phantom Lake
Lots of green space and parks
Bellevue College
Bellevue Demonstration Garden
Lake Hills started as a large tract of farmland in the early 1900s, primarily in the area between what is now known as Phantom and Larsen lakes. Although homes now sit on that original farmland, much of that agricultural spirit remains in Lake Hills today. Things to do in this exceptionally pet-friendly community include visiting the Larsen Lake Blueberry Farm and Kelsey Creek Farm, a historic family-owned farm that offers a free playground, picnic grounds, and farm animal education.
There are miles of walking trails that traverse the farms, as well as the Lake Hills Greenbelt Trail, which connects Larsen and Phantom lakes. Bellevue College is in Lake Hills, and the neighborhood is just a few minutes from shopping at both the Crossroads Mall and downtown Bellevue.
Bridle Trails
Bridle Trails Amenities
Bridle Trails State Park
Bellevue Golf Course
Microsoft campus
Urban-suburban feel
Horse lovers and those who want a slice of the rural countryside will feel right at home in Bridle Trails. Adjacent to Bridle Trails State Park, which runs through parts of Redmond and Kirkland in addition to Bellevue, the neighborhood features more than 28 miles of riding and walking trails and has show arenas and boarding and training facilities.
Most homes sit on large lots at least 3/4 of an acre in size with dedicated horse property bordering the park, giving Bridle Trails an authentic, rural feel and plenty of privacy. It's almost hard to believe this neighborhood is mere minutes from downtown Bellevue and Kirkland, as well as I-405 and State Route 520.
Woodridge
Woodridge Amenities
Easy access to the 405 and 90
Dog-friendly
Community pools
Bannerwood Sports Park
Woodridge is situated immediately south of downtown Bellevue and is bordered by I-405 to the west and I-90 to the south, providing an easy commute into Seattle. In almost stark contrast to that, Woodridge is well-known for its quiet, tree-lined streets, many well-maintained neighborhood parks, and bird watching opportunities.
A focal point of the neighborhood is the Woodridge Open Space, a 20-acre upland forest preservation with an extensive network of trails. Many homes have excellent views of Lake Washington, downtown Bellevue, and the Seattle skyline.
Downtown Bellevue
Downtown Bellevue Amenities
Plethora of bars & nightlife options
200+ dining options
Premier shopping destination
Parks and open green space
Second-largest city center in Washington
Bellevue's downtown area is the largest in Washington state. According to the Bellevue Downtown Association, the number of residents has doubled since 2010. Downtown Bellevue residents truly experience the best of urban living, with many condos and apartment homes having panoramic water views, an abundance of parks and open green spaces, and easy access to premier shopping, dining, and nightlife, as well as several outdoor recreational activities.
All of downtown Bellevue is highly walkable, but it's also served by several public bus lines and the Sound Transit East Link Light Rail (currently under construction), with two downtown stations slated to open in 2023. Bellevue Square and The Shops at the Bravern are the major shopping hubs, while Old Bellevue offers more eclectic shops and over 200 unique dining options.
Downtown Bellevue Hotspots
Lakemont
Lakemont Amenities
On the north face of Cougar Mountain
Suburban living
Lakemont Park
Cougar Mountain Zoo nearby
While Lakemont falls primarily within the official Bellevue city limits, part of it lies in adjacent Issaquah, which gives residents access to the Issaquah School District. Picturesque, heavily-forested Lakemont is situated on Cougar Mountain and has spectacular views of Lake Sammamish.
It has the distinction of being almost entirely residential, with just a small retail hub inside its formal boundaries. Newport and Issaquah border Lakemont, so abundant options for shopping and dining are nearby. The Cougar Mountain Regional Wildland Park and Cougar Mountain Zoo are both in Lakemont, in addition to several parks with walking and cycling trails.
West Lake Sammamish
West Lake Sammamish Amenities
Bordering Lake Sammamish
Weowna Park trails
Waterfront lifestyle
Lake-to-lake trail
Several lakes
Parks and greenspace
West Lake Sammamish comprises Bellevue's easternmost border, and most of the houses here are single-family homes on or near the waterfront with sweeping views of the Cascades. Waterfront homes typically have private docks, and Lake Sammamish is excellent for boating, fishing, and swimming. There are numerous hiking, walking, and cycling trails all around the lake as well. The scenery and population of just under 6,000 people give West Lake Sammamish an authentic small-town feel, but it's just off Interstate 90 and only a 10-15 minute drive to downtown Bellevue.
West Lake Sammamish Hotspots
The decision to move to Bellevue isn't difficult, but choosing exactly where to live can be a challenge. Each of the city's neighborhoods offers an abundance of rolling hills, trees, open green spaces, proximity to Seattle, lake and mountain views, and an active outdoor lifestyle – but they are all distinctly different. The great news is, you can't possibly go wrong with any Bellevue neighborhood!
If a home in Bellevue is your top choice, contact South Bellevue Partners of Windermere Real Estate/East, Inc. with Seattle Real Estate Central at (206) 280-1911 to get in touch with Bellevue real estate agents who can help you find your Bellevue dream home today.