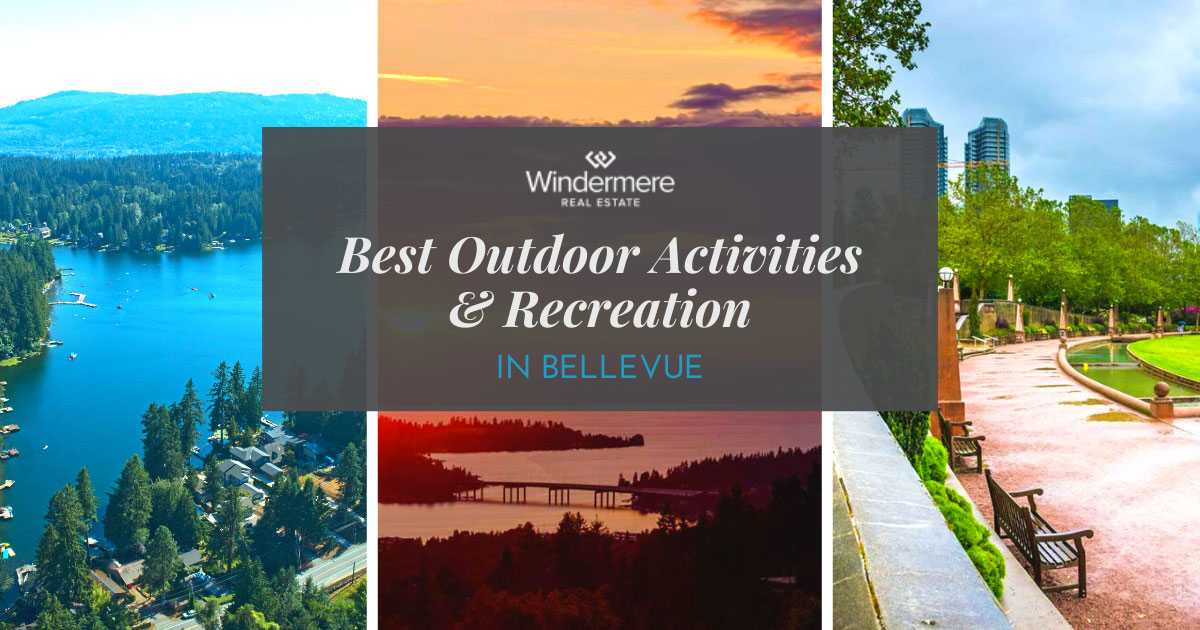 Best Outdoor Activities in Bellevue: Bellevue, Washington Outdoor Activities & Recreation Guide
For people who love the outdoors, there is perhaps no greater city to live in than Bellevue, Washington. It's located directly across from Seattle on Lake Washington and close to the Pacific Ocean, as well as numerous lakes, the Cascade and Olympic mountains, and countless miles of trails. Its prime location off of I-90, the 405, and State Road 520, combined with Bellevue's mild year-round weather and the abundance of fun things to do, make it a hub for all types of outdoor recreation in any season. Here are some of the most popular outdoor recreation options in Bellevue.
Water Recreation in Bellevue
Water Recreation in Bellevue
Meydenbauer Bay Park
Alki Kayak Tours
Goldmyer Hot Springs
Squibbs Creek
Kelsey Creek
Richards Creek
Lake Washington
Lake Union
Lake Sammamish
Bellevue is sandwiched between Lake Washington and Lake Sammamish, so water activities are popular. Whether you prefer low-key activities like spending the day on the sandy beach at Meydenbauer Bay Park, renting a boat to explore the water trails near Enatai Beach Park, or prefer something involving a bit more adrenaline, you'll find what you're after in Bellevue.
One of the more popular water recreation activities in Bellevue is kayaking to Alki. Located on the Puget Sound, Alki affords sweeping views of the waterfront and Seattle's skyline. Alki Kayak Tours provides one-of-a-kind water experiences, ranging from gear rentals to guided tours. Take a sea kayak tour to the Alki Lighthouse or explore Elliott Bay and experience some of the best sunsets in the PNW from your kayak. All this and more can be just minutes away from a Bellevue waterfront home.
Adventurers should check out the natural hot springs near Bellevue. The Goldmyer Hot Springs is tucked deep into the backcountry near North Bend, about 25 miles east. Several tiered pools range in temperature from 104-110°, and there's even a natural cave pool. In order to get Goldmyer, you'll have to hike at least 4.5 miles (depending on where you start) and reservations are strongly recommended. The non-profit organization Northwest Wilderness Programs owns and operates the hot springs and strictly limits visitors to 20 per day.
Bellevue Hiking & Biking Trails
Hiking & Biking in Bellevue
Weowna Park
Lake Hills Greenbelt
Enatai Beach Park
Newcastle Beach Park
Hiking and biking are deeply engrained in the Pacific Northwest lifestyle, and it's no different in Bellevue. The city's proximity to several mountain ranges and lakes, as well as three spectacular national parks — North Cascades, Olympic, and Mount Rainier — means there is no shortage of accessible trails. Even within Bellevue proper, however, there are several biking and cycling trails suitable for all experience levels. There are a number of bike paths through the city, some that take you past some of Bellevue's most popular landmarks and attractions. If you're looking for a slightly less urban experience, there are plenty of options.
Weowna Park: This popular 90-acre urban park makes you feel as if you're miles away from civilization. The gorgeous trails here are best suited for hiking and trail running and feature views of the Cascades and Lake Sammamish. There are also waterfalls and pools at several points along the trails.
Lake Hills Greenbelt: The Lake Hills Greenbelt encompasses a geologically diverse section of Bellevue. Several types of wildlife and terrain exist here, and the area also has an important agricultural element. In the 150-acre greenbelt, you'll find wetlands, thick forest, creeks, and lakes, as well as more than three miles of walking and biking trails. In the summer, you can even pick blueberries at Larsen Lake Blueberry Farm along the way.
Bellevue Parks
Parks in Bellevue
Bellevue Downtown Park
Newcastle Beach Park
Coal Creek Natural Area
North Cascades National Park
Olympic National Park
Mount Rainier National Park
One of the things people love most about Bellevue is its abundance of parks and open green spaces. In fact, the city has over 2,700 acres of dedicated parkland, including several waterfront parks and some with beaches. Even when time is in short supply, it's easy to get outside and get some fresh air in one of Bellevue's many parks.
Bellevue Downtown Park: Perhaps one of the city's most well-known attractions overall, this 21-acre park sits in the heart of downtown. It features a large reflecting pond, a waterfall, and a half-mile walking promenade. There's also a huge lawn for relaxing or picnicking, as well as a playground with a seasonal spray pad.
Newcastle Beach Park: In terms of beaches, Newcastle is Bellevue's largest and easily the most popular. Situated on Lake Washington, this beach park offers swimming and boating with a 300-foot-long dock. There's also a children's playground, covered picnic shelters, and well-maintained nature walking trails.
Coal Creek Natural Area: This beautiful, secluded oasis was once used for coal mining. Evidence of that can still be seen along the trails, which pass by several waterfalls. One trail also connects to the Cougar Mountain Regional Wildland Park.
Snow Activities in Bellevue
Snow Activities in Bellevue
Summit at Snoqualmie
Crystal Mountain Resort
Mount Rainier National Park
The Pacific Northwest is world-famous for the amount of rain it gets, but the area actually gets plenty of snow also, transforming Bellevue and the surrounding area into a winter wonderland. Bellevue itself gets about five inches of snow each year, so you can grab a sled or inner tube and find a hill in your neighborhood on snow days.
Nearby Summit at Snoqualmie ski resort typically gets several hundred inches, though, so head to the mountains if you want to really immerse yourself in powdery fun. Snoqualmie is the most easily accessible ski resort from Bellevue, as it's only about an hour away. It has four distinct mountains and just shy of 2,000 skiable acres with 2,280 vertical feet. This resort is best suited for intermediate and advanced skiers, but there are plenty of options for beginners as well. In addition, Snoqualmie offers tubing lanes, Nordic and snowshoeing trails, and even night skiing.
A couple of hours east, there's Crystal Mountain Resort, the largest ski resort in the state. With over 80 runs across 2,600 acres and spectacular mountain views of Mt. Rainier, Crystal Mountain offers something for everyone.
Other Bellevue Outdoor Activities
Other Outdoor Activities in Bellevue
Bellevue Zip Tour
Cougar Mountain Zoo
Wild Waves Theme & Water Park
Crossroads Water Spray Playground
As if hiking, water activities, and snow sports weren't enough, Bellevue still has even more ways to enjoy Mother Nature. Whether you want to explore the city on your own, you're entertaining visitors in from out of town, or you're spending time with young children, consider one of these outdoor activities in Bellevue.
Bellevue Zip Tour: Located in Eastgate Park, this zipline adventure carries you through the canopies of fir and maple trees, as high as 80 feet in the air. There are seven unique ziplines and two suspension bridges. This activity is appropriate for children ages 8 and older who weigh at least 60 pounds.
Cougar Mountain Zoo: Though technically in Issaquah, the zoo is just 15 minutes from downtown Bellevue. This small,11-acre zoo is focused on wildlife conservancy and houses Bengal tigers, wallabies, Siberian reindeer, gray wolves, and of course, its namesake cougars. It also has beautiful views of Lake Sammamish throughout.
If you love the outdoors and are intrigued by the charm of the Pacific Northwest, moving to Bellevue is a great option.
If a home in Bellevue is your top choice, contact South Bellevue Partners of Windermere Real Estate/East, Inc. with Seattle Real Estate Central at (206) 280-1911 to get in touch with Bellevue real estate agents who can help you find your Bellevue dream home today.