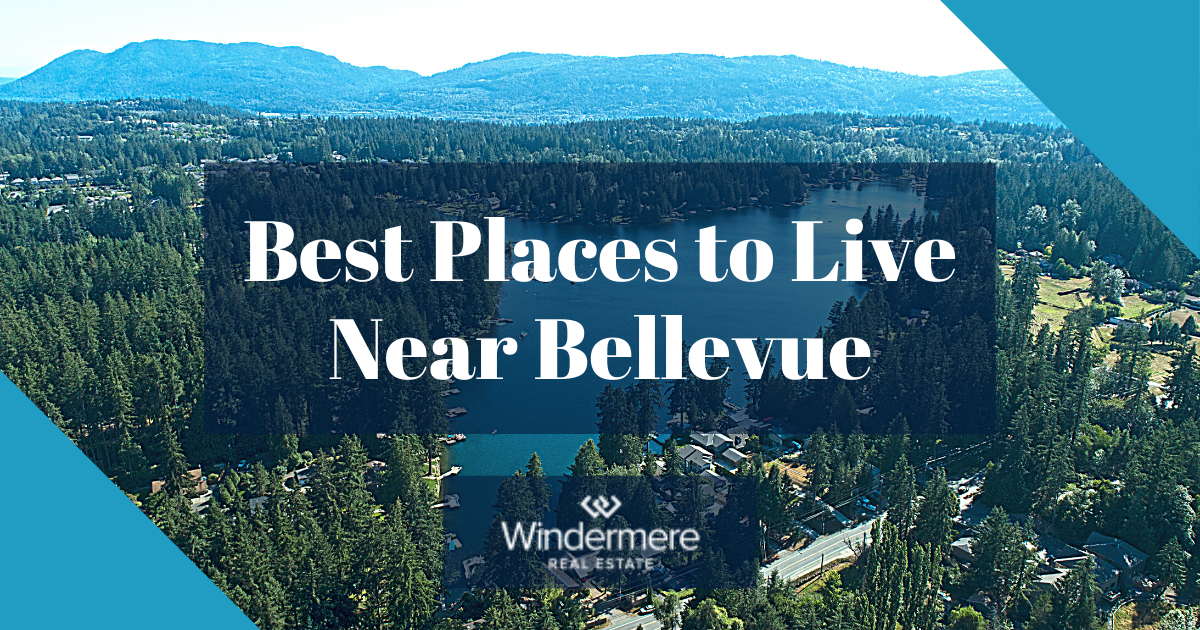 Best Places to Live Near Bellevue: Bellevue, WA Area Town and Bellevue Guide
Located across Lake Washington from Seattle, Bellevue is the third-largest city in the Seattle metro area with a population of about 154,647. Its name derives from a French term meaning "beautiful view," and on a clear day, Bellevue offers scenic views of the Olympic and Cascade mountains.
Bellevue's downtown is the second-largest city core in the state, with 1,300 businesses and over 10,000 residents. While a hub for tech and engineering, the city has also preserved its natural resources. Bellevue offers over 2,500 acres of parks and greenspaces.
For those interested in moving to Bellevue, the following suburbs are considered some of the best that the city has to offer its residents.
Clyde Hill
Clyde Hill Amenities
Parks
Neighborhood schools
Scenic views
Shopping nearby
Located northwest of Bellevue, the city of Clyde Hill has a population of about 3,488. With a nod to its sprawling, luxurious residential properties, the city has the distinction of having the most landscapers hired per square mile in the country. Clyde Hill currently has a minimum lot restriction of 20,000 square feet, though smaller lots exist that pre-date the city's incorporation.
The city has a history of controlling land use development, including lot size and commercial zoning, dating back to Clyde Hill's beginnings. Clyde Hill was originally incorporated as a town in 1953 and became a non-charter Code City in 1998.
Nearly all of Clyde Hill is zoned residential, other than one coffee shop and one gas station. However, the community is bordered by the cities and towns of Bellevue, Medina, Yarrow Point, Kirkland, and Hunts Point, offering all the amenities and services of a greater urban area.
Sammamish
Sammamish Amenities
Parks
Golf
Trails
Lake
Shopping
Restaurants
The city of Sammamish is located east of Bellevue, bordered by Lake Sammamish to the west and the Snoqualmie Valley to the east. Sammamish has a population of about 67,969.
The community was a mostly rural area throughout its existence, following the first arrival of settlers in the late 19th century. But it wasn't until the 1970s and 1980s that shopping centers, schools, and suburban homes began to dot the area. The city was officially incorporated in 1999 and annexed the community of Klahanie in 2016.
Sammamish is home to nine parks within its boundaries. Residents also have easy access to the adjacent Soaring Eagle Regional Park and Duthie Hill Park, located on the plateau. The East Lake Sammamish Trail follows the shoreline of Lake Sammamish and also connects to a larger regional trail system. The city is also home to multiple golf courses, as well as several retail and mixed-use developments.
Redmond
Redmond Amenities
Golf
Parks
Shopping
Live theater
Symphony
Restaurants
Widely recognized as the home of Microsoft and Nintendo of America, the city of Redmond has a population of about 71,838. Located northeast of Bellevue, Redmond is about 15 miles from Seattle.
In addition to being home to some of the most recognized names in technology, Redmond is also known as the "bicycle capital of the northwest," hosting an annual bike race on its city streets and laying claim to the state's only velodrome, a specialized arena for track cycling.
As the first settlers arrived in the 1870s, the city's abundance of trees and fish offered jobs for loggers and fishermen and attracted the goods and services to support them, leading to the city's early growth.
Redmond is home to 47 parks stretching over 1,351 acres and also holds several festivals annually. Performing arts includes the Eastside Symphony and Second Story Repertory Theater Company. It is home to the oldest farmer's market on Seattle's east side.
Medina
Medina Amenities
Golf
Country club
Lakefront
Water recreation
Beach
Nature preserve
The small city of Medina has a population of about 3,345 and is located on a peninsula in Lake Washington, northwest of Bellevue. It is on the opposite shore from Seattle and is bordered by the communities of Hunts Point and Clyde Hill to the east, with water bordering the other sides.
Medina was platted in 1914, but it wasn't incorporated until 1955. By the 1920s, the town's first mansions had sprung up, and the area was discovered following the arrival of direct ferry service.
The city is zoned primarily residential. Designated as a Tree City USA by the Arbor Day Foundation, the city has long been known as a leader in urban tree management, using city code to protect large trees from removal.
The community offers golf and a country club, as well as an abundance of water recreation opportunities.
Mercer Island
Mercer Island Amenities
Parks
Beaches
Sport fields
Public boat dock
Fishing pier
Amphitheater
Tennis courts
Farmers Market
Located southwest of Bellevue, Mercer Island is a city of about 26,246. As its name suggests, it is located entirely on an island of the same name, found in the southern part of Lake Washington. It is connected to the mainland on each side by bridges on Interstate Highway 90.
The island was first settled between 1870 and 1880. The city was incorporated in 1960, other than the 70-acre business district, which was incorporated separately until merging in 1970.
The city is home to several parks, including the 77-acre Luther Burbank Park with beaches and a fishing pier, among other amenities. The Aubrey Davis Park is located atop the I-90 tunnel and features a number of sports fields.
The 113-acre Pioneer Park is known for its equestrian, bicycle, and hiking trails. Dragon Park is primarily a playground, while Clarke Beach is home to the annual polar bear swim on New Year's Day. The city also maintains several smaller parks.
Issaquah
Issaquah Amenities
Parks
Wildlife zoo
Hiking trails
Shopping
Restaurants
Community festival
Issaquah is home to about 40,058 residents. It is located southeast of Bellevue, in a valley bordered by the Sammamish Plateau to the north and the numerous mountains unofficially dubbed the "Issaquah Alps" to the south. Issaquah is home to the multinational retailer Costco.
The neighboring highlands offer a number of outdoor recreational opportunities, including an extensive system of hiking trails. The area is a favorite of hang gliders and paragliders. Issaquah is also home to the Cougar Mountain Zoo.
The community's popular shopping center, Gilman Village, was developed through reuse of a number of historic farming and mining buildings dating back to the community's beginnings. Its 40-plus shops and restaurants have made the area one of the best-known retail destinations in the region.
Every October, Issaquah hosts the award-winning, two-day Issaquah Salmon Days festival, featuring a parade, artisans, multiple entertainment stages, and numerous sporting events, including a run, fencing, biking, and golf tournament.
Cottage Lake
Cottage Lake Amenities
Botanical garden
Nature preserve
Lake
Pond
Wineries
Cottage Lake is a census-designated place of about 23,955 residents, located northeast of Bellevue. Its economy is supported by a number of small, locally owned companies within the community as well as benefiting from the larger Seattle downtown business district nearby. The community is known for its advocacy of environmental sustainability.
The nearby lake—also named Cottage Lake—is 63 acres, with Cottage Lake Park along its north shore. The lake is a source of boating and fishing recreation, while the nearby park offers walking trails, picnic shelters, and a play area. It also offers public access with a large dock and a small beach. Cottage Lake Park is home to the annual "Music in the Park" summer concert series.
Local winemaking and related agrotourism industries have grown in popularity with Cottage Lake residents and visitors alike.
Discover Bellevue's Best Suburbs Today
Bellevue is a city known not only for its thriving business community dominated by innovative tech software and engineering firms but also for its natural beauty.
The suburbs that make up the region have much to offer residents, as well as visitors. Many of them feature waterfront access, with boating, swimming, and fishing opportunities. Additionally, hiking trails, parks, and nature preserves enable residents to make the most of the mountains, valleys, and plateaus.
Many of the suburbs have also developed successful retail and restaurant districts, from unique, locally owned establishments to big-box stores and nationally recognized chains. The various suburbs in the region also differentiate themselves with local festivals and performing arts venues.
If a home in Bellevue is your top choice, contact South Bellevue Partners of Windermere Real Estate/East, Inc. with Seattle Real Estate Central at (206) 280-1911 to get in touch with Bellevue real estate agents who can help you find your Bellevue dream home today.