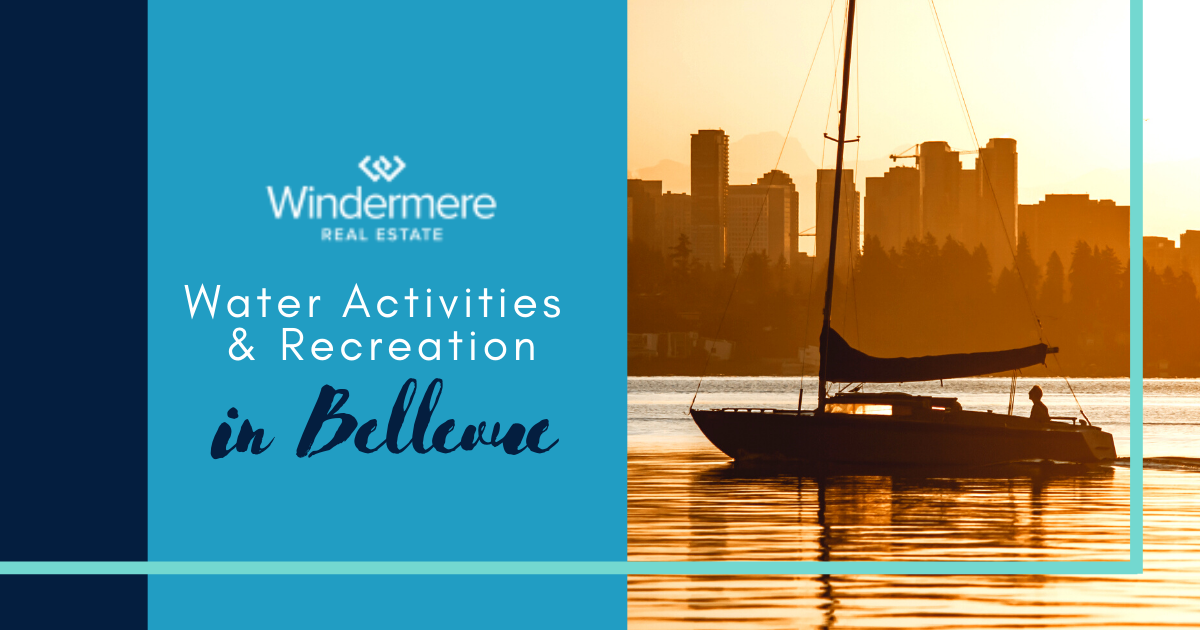 Best Water Activities in Bellevue: Bellevue, WA Water Activities & Recreation Guide
If you're looking to beat the heat with some water fun, Bellevue, Washington is the right place. With river, lake, and oceanfront access, Bellevue has it all for anyone who wants to enjoy a day out on (or in) the water. Bellevue's proximity to Squibbs Creek, Kelsey Creek, and Richards Creek; Lakes Washington, Union, and Sammamish; and the Pacific Ocean guarantee that anyone living in or moving to Bellevue can spend as much time as they please out on the waters of the city.
Take a look at some of the best water recreational activities in Bellevue, WA!
Crossroads Water Spray Playground
Crossroads Water Spray Playground Amenities
Picnic shelters
Open year-round
No standing water
Fun for all ages
Families looking to cool off from the summer heat can enjoy Bellevue's Crossroad Water Spray Playground. The playground is located at the city's Crossroads Park, at 999 164th Avenue NE. Although the park and playground are open year-round, the water feature is typically open from 10 a.m. to 8 p.m. daily, beginning the Friday of Memorial Day Weekend through Labor Day.
Children can enjoy climbing atop a spouting Orca whale, one of the main features of the spray playground. There are also spouting frogs, squirting clams and more—all features designed to send refreshing sprays of water into the air to keep park-goers cool during hot summer days.
Crossroads is truly a spray park and not a waterpark or pool. There is no standing water and the water spraying from the features is potable and low pressure. Children of all physical abilities should be able to enjoy features of the playground.
Crossroads Water Spray Playground is a free, public facility and not available for private rentals. However, there are two small picnic shelters adjacent to the spray area that area available for rental by reservation. Each has a capacity of 25 people or they may be rented together for a capacity of 50. When not reserved, use of the picnic areas is on a first-come, first-served basis.
Wild Waves Theme & Water Park
Wild Waves Theme & Water Park Amenities
Hook's Lagoon
Multiple water slides
Lazy river
Wave pool
River rapids
Hot tubs
Located less than 30 miles south of Bellevue, the Wild Waves Theme & Water Park offers visitors the best of both worlds when it comes to summer fun. Set at 36201 Enchanted Parkway South, Federal Way, this park offers plenty of activities to enjoy during the summer. The theme park features 10 thrill rides, including the Lumberjack Falls boat ride, as well as a Ferris Wheel and a dozen other family rides. Young children can enjoy the enchanted Railway and six other kids' rides.
The waterpark section of Wild Waves is home to 10 water features, including the Konga Lazy River, the Wave Pool, the Pacific Plunge, and the Konga Slides, among others. Waterpark features have a mixture of mild to high thrill level rides.
The park also holds several special events during the season. During its summer drive-in movie series, park guests are invited to stay past closing hours, grab a tube and enjoy a flick from the wave pool. The event is free with admission. Other events include the annual National Roller Coaster Day and Wild Waves Fright fest.
A one-day pass is $34.99 when purchased at least three days in advance, but discounts are available for children under 48 inches in height and guests aged 60 and over. Park admission and opening dates fluctuate season to season but are available on the park website.
Lake Washington
Lake Washington Activities
Swimming
Boating
Biking
Walking
Fishing
Less than three miles from downtown Bellevue, Lake Washington is a large, freshwater lake that separates the Bellevue metro area from Seattle. This lake is the largest in King County and the second largest natural lake found in the state of Washington, at nearly 34 square miles in area.
The lake is known as a ribbon lake, meaning it is long and narrow. Such lakes are created by glaciers as they melt and the depressions they left behind are filled with meltwater. Most ribbon lakes have an inlet river at one end and an outlet river on the other. However, Lake Washington actually has inlet rivers on both ends—the Sammamish River and Cedar River—and a man-made outlet in the middle.
Many fishing docks dot the lake's perimeters. Anglers enjoy sport fishing opportunities year-round at Lake Washington, including Rainbow Trout, Largemouth Bass, Smallmouth Bass, Coastal Cutthroat Trout, Black Crappie and Yellow Perch.
Several of Bellevue's parks offer lake access, including Clyde Hill Beach, Meydenbauer Bay Park, Chesterfield Beach Park, Enatai Beach Park, Chism Beach Park and Newcastle Beach Park. In addition, some city parks offer access to the water trails of the Mercer Slough Nature park.
Bellevue's beach parks offer a number of amenities, including swimming areas, swimming docks, boat houses, picnic areas, and seasonal canoe and kayak rentals. Stunning mountain views will accompany your trip out on the water, making it one to remember.
Bellevue Boat Tours
Bellevue Boat Tour Options
Candere Cruising
Lake Union Charters and Adventures
Enchantress Cruises
Paul Gauguin Cruises
Seattle Boat Cruise
Argosy Cruises
Taking the short drive from Bellevue to Seattle, across the Evergreen Point Floating Bridge, will land you a number of boat touring opportunities on nearby Lake Union. Candere Cruising's private cocktail cruises and sailing excursions last from one to four hours and are available via motor or sailboat. Candere Cruising, located at 1341 N. Northlake Way, Seattle, offers a one-hour sightseeing cocktail cruise, a two-hour cruise, a three-hour day sail, and several charter cruises. The cruises can handle up to six guests.
Lake Union Charters and Adventures offers a number of tours and sunset cruises of varying duration. Looking for a special evening with your significant other? The company also offers a date night adventure cruise. Lake Union Charters and Adventures is located at several docks on Lake Union, so guests should check their reservation for a pick-up location.
Enchantress Cruises offers a number of options for those wanting to enjoy Lake Union. Couples can enjoy a romantic cruise, with or without dinner, at sunset. Choices range from a two-hour to a four-hour full dinner cruise. The company also offers a four-hour dinner cruise for up to six guests and a family cruise, also up to six guests.
Newcastle Beach Park
Newcastle Beach Park Amenities
Picnic shelters
Dock
Play area
Public grills
Nature trail
While the City of Bellevue operates several parks that provide beach access, Newcastle Beach Park is not only the largest beach park, but the largest overall. The park is located at 450 110th Ave. NE in Bellevue, and offers residents and visitors a number of amenities. The park's most prominent feature is a 300-foot dock extending out into the water on Lake Washington. Newcastle Beach Park offers opportunities for swimming and sunbathing, as well as a nature trail that spans 0.2 miles in a loop. The park also features a children's play area with slides, swings, and climbing play areas for children. There is a lifeguard on duty at the swimming area during summer months.
Newcastle Park offers visitors three picnic areas, which can be reserved. The first shelter has a capacity of up to 150 people and includes eight tables, two barbeque grills and a large grassy area for games. The second shelter holds up to 75 people, with six tables. It is shaded and offers close proximity to the swimming area and the children's play equipment.
The smallest of the three shelters hold about 25 people maximum. It has two tables and is very open and airy. No electricity is available at any of the locations, so it's important to plan accordingly.
The park is open year-round from dawn to dusk. Parking is limited, so carpooling is encouraged when possible.
Enjoy Water Fun in Bellevue Today
Bellevue is a beautiful city saturated with fun water recreation and other great outdoor activities for all who live here. If you love the water and are captivated by the charm of the Pacific Northwest, Bellevue is a perfect place for you to find your perfect waterfront property to call home.

If a home in Bellevue is your top choice, contact South Bellevue Partners of Windermere Real Estate/East, Inc. with Seattle Real Estate Central at (206) 280-1911 to get in touch with Bellevue real estate agents who can help you find your Bellevue dream home today.