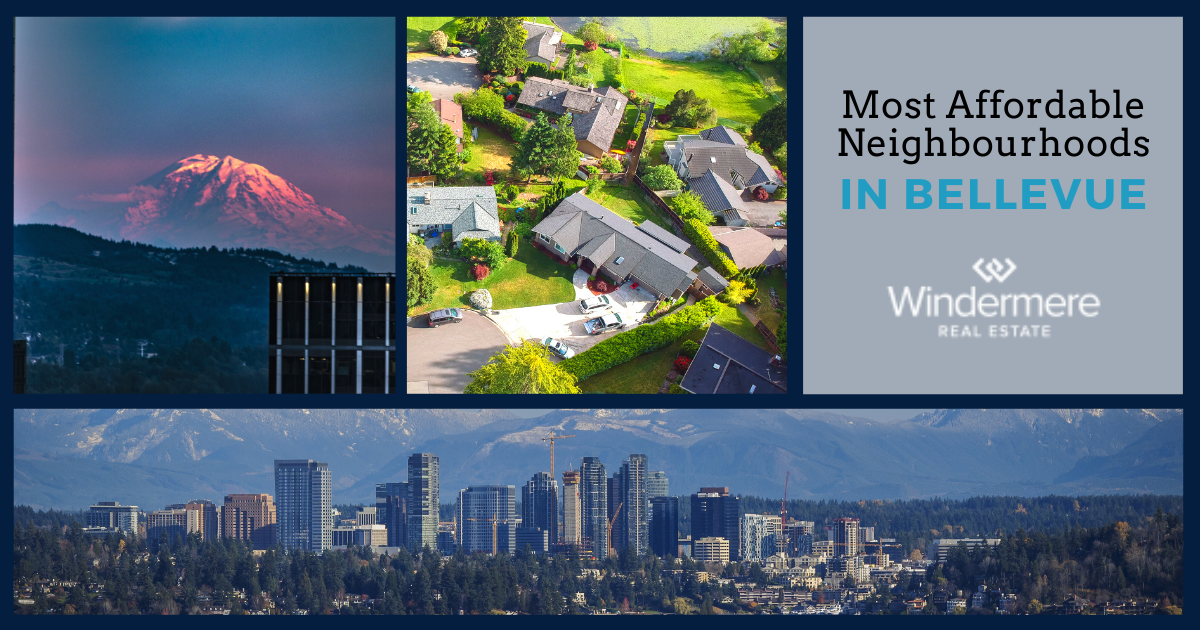 Most Affordable Neighborhoods in Bellevue: Bellevue, WA Affordable Living Guide
With a population of approximately 148,000 residents, Bellevue, Washington, is a growing lakeside city in the Seattle metropolitan area and is situated on the banks of Lake Washington across from Seattle. The city's name translates to "beautiful view" in French (belle vue). Downtown Bellevue underwent a significant boom in development and business growth in the late 1990s and early 2000s, and in the past decade has increased its jobs base by 25% with no signs of slowing down.
With everything this city has going for it, it's hardly a surprise that people want to live in the area. However, high housing costs may be a barrier for some. Fortunately, there are several affordable neighborhoods in Bellevue that prospective homeowners can consider when making a move to this great city.
Those planning a move to Bellevue may consider one of the city's following affordable neighborhoods to call home.
Factoria
Factoria Amenities
Marketplace @ Factoria shopping center
Public transportation with King County Metro buses
Within five minutes of Coal Creek Natural Area
Access to Interstate 405
2.5 miles to Newcastle Beach Park on Lake Washington
Newport High School and Tyee Middle School
Five-minute drive to Eastgate Park
Factoria is one of Bellevue's largest commercial districts and a popular suburban neighborhood in the city's south, not far from the Coal Creek Natural Area. What was once rich timberland in Duwamish Tribal Territory in the early 20th century turned into an industrial center before becoming a business center with more residential development over the last 60 years. In 1993, this area was annexed into Bellevue. Interstate 90 makes up its northern border, while Coal Creek Parkway runs south of Factoria. Interstate 405 is on the neighborhood's west side, and Newport Way is on the east.
The neighborhood's history of logging, railroads, and industrial inspirations remain evident today, as the area features an array of restaurants, shops, and business services. Marketplace @ Factoria is one of the neighborhood's busiest spots. There is also the Newport Corporate Center, a six-story office building currently home to T-Mobile.
Lakemont
Lakemont Amenities
Lakemont Park Baseball Field
Lakemont Skate Court
Playgrounds and picnic areas
Cougar Mountain parkland
Lewis Creek recreational areas
Lakemont is situated on the north side of Cougar Mountain in Bellevue's far southeast corner, about a 15-20 minute drive from downtown Seattle. The Lakemont neighborhood encompasses several nearby communities within Cougar Mountain, including Lewis Creek Park and Lakemont Park.
As one of Bellevue's largest suburban spots, Lakemont is popular with home buyers interested in green living spaces and rolling mountain views. Now including The Summit, Lakemont Hills, Belvedere, Forest Ridge, Collingwood, Longshadow Ridge, Branderwood, and several other residential developments, Lakemont has grown in recent decades with the Lakemont Community Association
Lakemont is entirely within the Issaquah School District limits with several nearby schools. The neighborhood is just over eight miles from downtown Bellevue and less than 10 minutes from Lake Sammamish State Park. Cougar Mountain Zoo, Cougar Mountain Regional Wildlife Park, and Greenwood Point are other close attractions within several miles of Lakemont. Lewis Creek runs through the area, as well.
Lakemont Hotspots
Lakemont Nightlife
Lakemont Cafés
Lake Hills
Lake Hills Amenities
Numerous local schools
Robinswood Community Park
Sunset Hills Memorial Park
Biking and hiking trails
Tennis and cricket facilities
Easy access to Interstate 90
Park & Ride for public transportation
Lake Hills is situated north of the Eastgate neighborhood and south of Crossroads. A 10-minute drive to the Bellevue city center and less than 15 minutes to Seattle, the area was farmed in the early 1900s, particularly the area between Phantom Lake and present-day Larsen Lake.
When this agricultural activity was interrupted in the 1940s, Lake Hills became largely residential with suburban housing. By 1955, it was set to become the Pacific Northwest's largest planned community. In 1969, Lake Hills was added to Bellevue.
Five elected members serve on the East Bellevue Community Council (EBCC), which is legally authorized to veto zoning and land use decisions of the larger Bellevue City Council. Thanks to this representation, Lake Hills functions as a town inside a town. Today, a number of community resources are found in Lake Hills, including the Lake Hills Greenbelt with the Urban Demonstration Garden and Bellevue College.
Newport Hills
Newport Hills Amenities
Swim and tennis facilities
Newport Hills Park with lighted sports fields
Playgrounds
Coal Creek Natural Area
Proximity to Newport Shores on Lake Washington
Off-leash dog park
Newport Hills is located in southwest Bellevue, about 10 minutes outside of downtown and 15 minutes to the heart of Seattle. It's a short drive to the shores of Lake Washington and is bordered to the northeast by the Factoria neighborhood and the east by Coal Creek Natural Area.
Interstate 405 runs through Newport Hills, which has developed significantly as a residential area over the last 50 years. The Newport Hills Park & Ride connects residents to the wider Seattle metropolitan area, while Newport Heights Elementary School, Jing Mei Elementary School, and Ringdall Jr High School are local schools. Coal Creek, named for the once-flourishing coal mining industry in the 1800s, has a picturesque walking trail.
This neighborhood is just four miles from the start of the Cougar Mountain Regional Wildland Park and about nine miles from Lake Sammamish State Park.
Woodridge
Woodridge Amenities
Direct access to Interstate 405 and 90
McTavish-Woodridge Open Space Trail
Richard's Valley Loop Trail
Bannerwood Sports Park
Woodridge Swim Club
Glendale Country Club
Wilburton Trestle Bridge and the Pedestal House landmarks
Norwood Village Park Basketball Courts
Woodridge has gained popularity in recent decades for its spacious homes and quaint, quiet suburban streets. This neighborhood has impressive views of downtown Bellevue and Seattle across Lake Washington and is less than 10 minutes from the city center. Downtown Seattle is just 15 minutes away. The Woodridge Water Tower is one of the neighborhood's most well-known landmarks, visible from the heart of Bellevue, while Woodridge Elementary School is situated on the hilltop.
Woodridge is largely residential with family homes, senior living centers, and several recreational facilities, in addition to some commercial buildings and business offices. The nearest restaurants, cafés, nightlife, and stores are just over the interstate in Factoria or to the east in Lake Hills. Factoria Marketplace is just a few miles away with an array of shops and restaurants, and Kelsey Creek Park is about a seven-minute drive to the north.
The Woodridge Community Association is a coalition of neighborhood resident volunteers who support annual events, such as garage sales, donation drives, and newsletter distribution.
Choose One of Bellevue's Most Affordable Neighborhoods
Bellevue has a variety of affordable neighborhoods with lots to see and do in terms of dining, outdoor activities, education, shopping, personal services, and much more. There are both historic sections and new construction homes, so home buyers can pick the property that best suits their preferences in this large, suburban city.
If a home in Bellevue is your top choice, contact South Bellevue Partners of Windermere Real Estate/East, Inc. with Seattle Real Estate Central at (206) 280-1911 to get in touch with Bellevue real estate agents who can help you find your Bellevue dream home today.