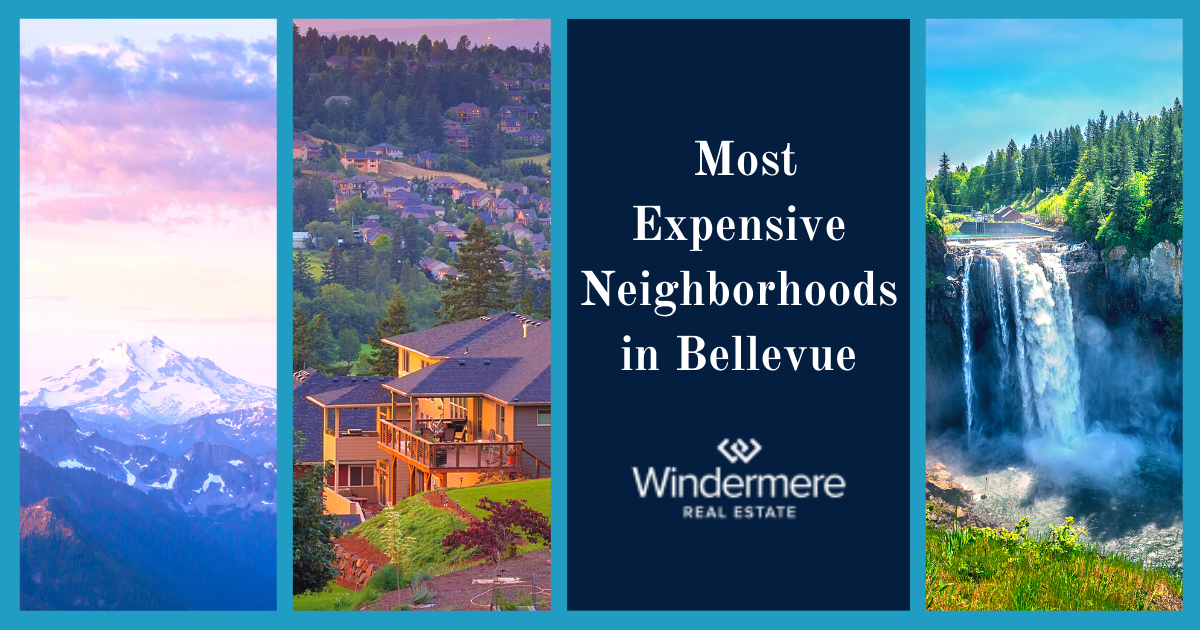 Most Expensive Neighborhoods in Bellevue: Bellevue, WA Luxury Living Guide
Bellevue, Washington, is a city east of Seattle proper and is part of the Seattle metropolitan area. It is one of the most popular places for people who work in downtown Seattle to call home because the area offers a quaint suburban lifestyle with all the conveniences of being located close to the city and Washington's gorgeous West Coast beaches. Residents of Bellevue can get to Seattle in about 15 minutes via I-90, crossing the Lacey V Murrow Bridge.
Bellevue is surrounded on its east and west sides by Lake Sammamish and Lake Washington, respectively, making it the perfect escape. Traditional water activities in Bellevue like swimming, boating, kayaking, and whale watching are popular for all ages. Notable landmarks in the area include the Bellevue Botanical Garden, Meydenbauer Bay Park, the Coal Creek Natural Area, and the Northern tip of Cougar Mountain Regional Wildland Park.
The following areas are some of Bellevue's most expensive neighborhoods and include amenities, restaurants, shopping, and more found nearby.
Enatai
Enatai is a beautiful community of approximately 950 households in Southwest Bellevue. It is a stunning destination for Bellevue residents to enjoy both natural landscaping and convenient amenities. Created in 2006, the Enatai Neighborhood Association is a community non-profit organization that manages the area to help develop a strong, networked community and keep residents informed. Since then, the ENA has worked to ensure the neighborhood continues to grow into a connected community.
Arguably, the most desirable feature of Enatai is its private beach access and exciting water activities. It offers a park-like, outdoorsy feel with all the conveniences of being near Seattle. Most homes in the neighborhood are designed as single-family dwellings and sell for between $2 and $5 million, typically featuring more than three bedrooms, two or more bathrooms, contemporary design, and robust square footage. Architecture in Enatai is generally modern and contemporary. However, some homes may have traditional or rustic touches.
Vuemont
One of the most popular neighborhoods in Bellevue is Lakemont, and Vuemont is its northern section, east of Factoria and north of Cougar Mountain Regional Wildland Park. The residential streets of Vuemont are quiet and quaint, lined with stunning homes that feature gorgeous, eye-catching architecture. Many homes in the neighborhood are positioned to have unfiltered views of Lake Sammamish, a crystal-blue adventure in and of itself tucked away in Bellevue's rolling hillsides.
The value of real estate in Vuemont is high. Many residents commute to downtown Seattle, which is just a short 15-minute drive away. Most homes in this favored neighborhood sell between $700,000 and $1.3 million.
Bridle Trails
Equestrian households in Bellevue tend to gravitate towards Bridle Trails, the area's premier neighborhood for horse enthusiasts. Many residents participate in the sport at local, state, and regional championships, while others own horses to ride and enjoy. The area features acres of expansive residential ranches and pastures, with multiple horse trails winding throughout the neighborhood. Residents that want the convenience of living close to the city but with the feel of being far outside of town will enjoy the neighborhood's gorgeous green meadows and timbered areas. Two-thirds of Bridle Trails is wooded.
Many residents like the tight-knit community that Bridle Trails offers, where meetings and community events are held regularly. The population of Bridle Trails exceeds 10,000, or 8 percent of the city of Bellevue, and has nearly 5,000 residences. Some two-bedroom homes sell for under $400,000, while larger homes are priced up to $2 million.
The Summit
Between Somerset and Lakemont sits The Summit, a beautiful neighborhood of luxury homes in Central South Bellevue. Cougar Mountain Regional Wildland Park is just south of The Summit, offering stunning views to many of the neighborhood's modern homes. Many residents enjoy living in The Summit because it offers access to the area's public schools and a thriving job market. Homes rarely become available in this highly coveted community, and it's arguably one of the best neighborhoods in Bellevue.
Homes in The Summit are priced between $500,000 to $2 million and feature expansive layouts with plenty of square footage. Residents who value privacy and security appreciate that the community is monitored and patrolled at all times. With access to a community clubhouse that offers a robust entertaining space for parties, residents can also enjoy a shared pool and gym that makes living well more convenient.
Newport Shores
Bellevue residents who enjoy the boating lifestyle are well suited to one of the area's unique neighborhoods: Newport Shores. This small, quaint community has a third of its 340 gorgeous homes situated on the canal and Lake Washington, offering unparalleled views and access to waterfront activities. From boating to swimming or just enjoying the lake breeze, the Newport Shores atmosphere is second-to-none for residents who love the water. The neighborhood's roads are well maintained and are great for walking, biking, and skating.
Many Newport Shores residents are members of the Newport Yacht Club, a prestigious members-only club that hosts events and socials in the neighborhood. Newport Yacht Club members have access to a children's playground, half-court basketball, a heated outdoor pool, tennis courts, a marina, and a sand volleyball court. Club members and non-members can rent the Club's banquet space and outdoor decks to give parties, weddings, and other events a breathtaking Lake Washington backdrop.
Waterfront home prices in Newport Shores vary widely depending on the home and its amenities; a two-bedroom apartment may sell for under $500,000, while an expansive five-bedroom estate can cost upwards of $7 million.
Eastgate
The Eastgate neighborhood sits north of Somerset and east of Factoria and is largely residential with a population of around 5,000. It runs along the south side of I-90 and just to the east of I-405, making commuting to and from Eastgate a breeze. Eastgate has a distinctly suburban feel and offers convenient access to a number of amenities, including shopping, dining, parks, and more.
Most residents in Eastgate own their homes. However, the average rental price of a property in the neighborhood is around $2,300 a month. Homes sell for roughly $780,000 on average but can be much higher or lower depending on the property's location in the neighborhood and its amenities. Some homes in Eastgate can sell for as much as $2.5 million.
Discover Bellevue's Most Expensive Neighborhoods
Bellevue is a great place to live for those who are looking for a home just slightly away from all the action. With quick access to Seattle via Highway 520 to the North or I-90 to the South, it's conveniently located without being too close to the Emerald City. Modern, energy-efficient architecture, pristine landscaping, and a friendly community atmosphere make any Bellevue house a great place to call home.
If a home in Bellevue is your top choice, contact South Bellevue Partners of Windermere Real Estate/East, Inc. with Seattle Real Estate Central at (206) 280-1911 to get in touch with Bellevue real estate agents who can help you find your Bellevue dream home today.