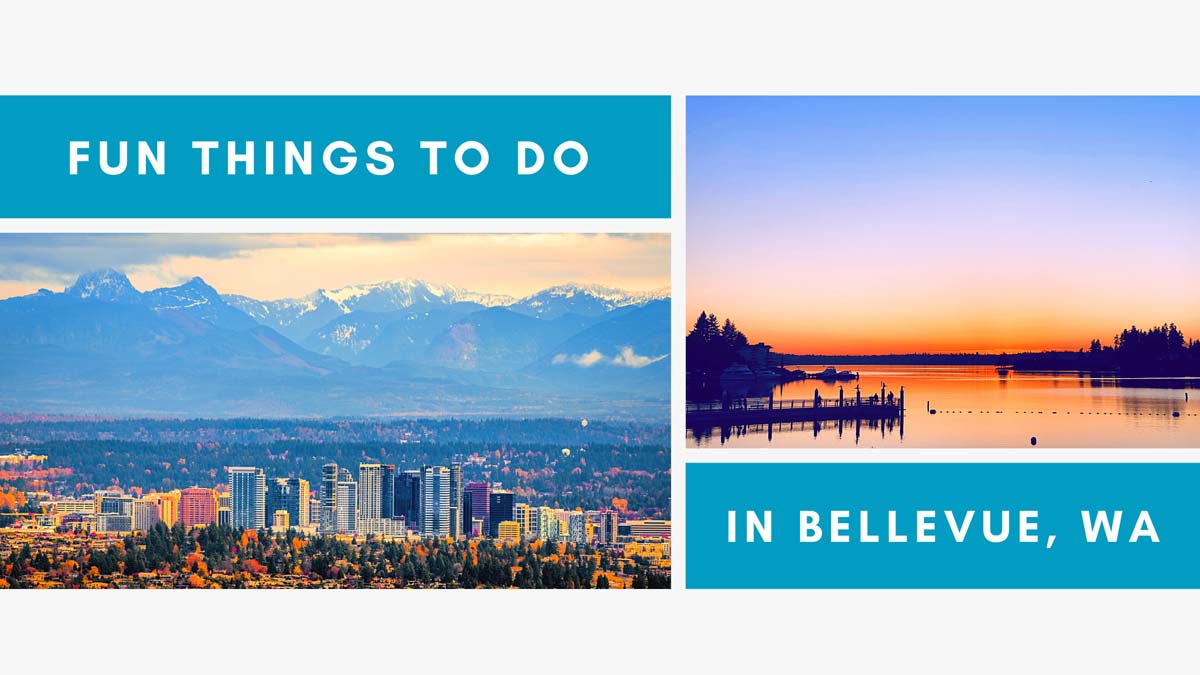 Things to do in Bellevue: Fun Activities and Attractions
Bellevue, Washington, features a community atmosphere that is rich in activities, events, and points of interest for everyone. Whether your interest is in daytime adventures or nighttime outings, Bellevue offers numerous things to do throughout the year that cater to all ages and personal preferences for having fun. Here are some of the most popular things to do in Bellevue.
Outdoor Activities in Bellevue
Other Outdoor Adventures in Bellevue
Bellevue Botanical Garden
Downtown Park
Kelsey Creek Park
Newcastle Beach Park
For outdoor enthusiasts, Bellevue offers a variety of outdoor activities, from parks and trails to beaches and botanical gardens. Choose to spend the day soaking up the beauty of the great outdoors at one of Bellevue's best neighborhood parks, such as Downtown Park's 21 acres that offers a scenic respite among the gardens and waterfall.
If a picnic lunch is on the agenda, head to 53-acre Wilburton Hill Park and enjoy the woodland hiking trail and botanical gardens. Add fun in the sun with a refreshing swim at Meydenbauer Bay Park, or tee off at Bellevue Golf Course. For a day trip or an overnight stay, consider Mount Rainier National Park and Olympic National Park, which offer hiking, biking, boating, backpacking, camping, and fishing.
Bellevue Shopping
Shopping Centers in Bellevue
Park Row Shopping Center
Crossroads Bellevue
The Shops at the Bravern
Factoria Mall
Shopping venues in Bellevue provide a plethora of choices, from malls and boutiques to independently owned stores. To discover a variety of businesses in one location, Bellevue Square has over 120 shops covering items from A to Z. There is also the Bel-Red Retail Mall, Crossroads Bellevue, Lincoln Square South, and The Shops at The Bravern.
Independent stores also offer a variety of goods, and include Silver Platters for music, Bellevue Nursery for gardening supplies, Whisk for kitchen decor, and J. Hilburn Showroom for custom men's clothing. Whether fine jewelry, antiques and collectibles, sporting goods, kid's clothing, home furnishings for your new construction home, pet supplies, or a bouquet of fresh flowers is on your shopping list, Bellevue retailers have the goods you need.
Palate-Pleasing Dining in Bellevue
Restaurant Options in Bellevue
Carmine's
Daniel's Broiler
FLO Japanese Restaurant & Sake
Burgermaster
Bellevue's menu of palate-pleasing dining options has something delectable for everyone's tastebuds. Cozy cafés such as Mercurys Coffee Co, Dilettante Mocha Café, and Bellden Café provide a tasty way to start the day with a freshly brewed cup of coffee. If you are taking a break from shopping or are on your lunch break, there are plenty of tempting restaurants that offer a variety of cultural cuisine choices, from burgers and seafood to matzo ball soup and vegan fare.
Choose from Japanese, Venezuelan, Mediterranean, Taiwanese, Brazilian, Italian, American, and much more. A night out on the town with fine dining is an option at upscale restaurants, including Bis On Main, Ascend Prime Steak & Sushi, Seastar Restaurant and Raw Bar, and Fogo de Chao Brazilian Steakhouse.
Bellevue Nightlife
Bars, Clubs, and Music in Bellevue
Q Nightclub
SUITE Restaurant / Lounge
Lucky Strike Bellevue
Neumos
Just like Bellevue's dining options are diverse, so are the available nightlife activities designed for adults and family-oriented nighttime entertainment. At Lucky Strike, adults can bowl, play pool, try their luck in the arcade room, or head to the dance floors where DJ-inspired music awaits. After showing off their many moves, people can head to Bake's Place Bar & Bistro to unwind with refreshing beverages or Paddy Coyne's Irish Pub for a cool brew.
Take fun to another high with a night visit to The Museum of Flight. Other nighttime activities for adults and kids near Bellevue include movie theaters, Wings Over Washington, Sky View Observatory, and taking fun pictures at the Seattle Selfie Museum.
Find Something Fun to Do in Bellevue Today
Whether you are planning a move to Bellevue from across town, from across the state, or from out of state, there are plenty of reasons to make the city your new home base. With ample activities, entertainment, and points of interest, Bellevue offers an abundance of friendly neighborhoods, luxury homes, assorted local businesses, quality schools, a variety of shopping venues, and diverse dining options that residents can plan into their cost of living. When living in Bellevue, residents have daily access to a comfortable, convenient, and interesting way of life.
If a home in Bellevue is your top choice, contact South Bellevue Partners of Windermere Real Estate/East, Inc. with Seattle Real Estate Central at (206) 280-1911 to get in touch with Bellevue real estate agents who can help you find your Bellevue dream home today.