Getting to Know Your Kitchen Cabinets: Building and Updating Considerations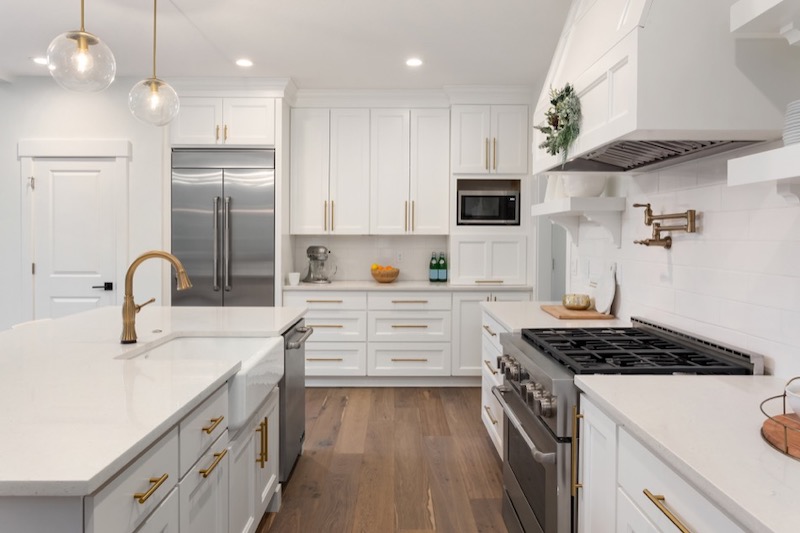 A kitchen remodel can dramatically change the appearance of your home. While countertops, flooring, paint colors and appliances all need careful consideration, kitchen cabinets are often the largest and most visible parts of your kitchen. Cabinets come in many colors and styles and can be made from many types of wood. Even just a simple refinish to your existing kitchen cabinets can completely change the character of your kitchen.
It's important to know and consider your options when replacing your cabinets or painting them. This guide will explore each aspect of kitchen cabinet replacement and refinishing to help you make a positive impact on your kitchen for years to come. By carefully considering your options and making the right choice for your kitchen, you can even increase the value of your home.
Remodeling Considerations
Before beginning this home improvement project, there are a lot of factors to consider. Many homeowners dream of replacing their cabinets only to realize that refinishing is much more affordable. Even professional refinishing is often cheaper than full cabinet replacement.
Standard Dimensions
For homeowners who decide to replace their cabinets, one of the first decisions that needs to be made is whether to install custom, semi-custom or stock products. Taking the time to meet with contractors, take measurements, and review the budget can help them make the right choice.
Stock cabinetry is cabinetry that is only available in specific dimensions and sizes to fit in a standard kitchen. Stock cabinetry is usually the least expensive of all the cabinetry types, because it's easy for manufacturers to make and keep stock cabinets available for consumers.
Like stock cabinetry, semi-custom cabinetry is available in standard dimensions, but certain aspects of semi-custom cabinetry can be customized to meet the needs of the customer. For example, if ordering semi-custom cabinetry, you may be able to change the size of the doors or the height of the cabinet. The choices and changes you can make are limited, but for most homeowners, the choices available in semi-custom cabinetry are just enough to make their cabinets exactly what they were hoping for.
Custom cabinets are cabinets that are entirely custom made. For many homeowners, custom cabinets are so expensive as to be impractical, especially when semi-stock is usually adequate. Sometimes, homeowners will order a single cabinet custom made to fit in a space of unusual dimensions, but for an entire kitchen remodeling, many homeowners stick to stock or semi-custom.
Stock Cabinet Dimensions
Standard width: Beginning at 9 inches and increasing by 3-inch increments to 48 inches
Standard depth: 24 inches for cabinets on the floor and 12 inches for wall cabinets
Semi-Stock Cabinet Dimensions
Standard width: Beginning at 9 inches and increasing by 1-inch increments to 48 inches
Standard depth: 24 inches for cabinets on the floor and 12 inches for wall cabinets, which can be increased or reduced within manufacturer's specifications
Refinish or Replace?
When trying to decide whether to refinish or replace their cabinets, homeowners must face hard choices. While replacing cabinets is often an attractive option, refinishing is practical, more cost-effective and less wasteful. When trying to decide whether to refinish or replace, consider the following:
What material are the cabinets made from? Some materials, like metal, are hard to refinish effectively, while wood is easier to transform through refinishing.
What is your budget? Knowing how much you can afford to spend can help you decide whether new cabinets or refinished cabinets are in your future.
What is the condition of your cabinets? Refinishing can change the appearance of your cabinets, but cannot make up for serious damage.
Are you happy with the current style? Refinishing isn't always effective for homeowners who are unhappy with the appearance of their cabinets.
Asking yourself these questions can help you decide whether refinishing or replacement is right for you. To answer these questions, look through pictures of new kitchens, talk to contractors, explore loan options (if you need financing) and make a scrap book of the options available to you.
Cost
Cabinet cost varies, depending on the quality of the cabinets and the contractor who is installing them. Homeowners who want to get the most for their money should shop around, talking to several contractors before making a final choice. Type of materials and number of cabinets also impact the cost of replacement or refinishing. The typical cost to replace cabinets is:
Stock: $4,000 to $6,000
Semi-custom: $6,000 to $9,000
Custom: $15,000 and up
To refinish cabinets, most homeowners pay around $2,000 for professional refinishing, though the price depends on the contractor's pricing and size of the job. Homeowners who are on a tight budget can refinish their cabinets as a DIY project and save hundreds.
Kitchen Cabinet Styles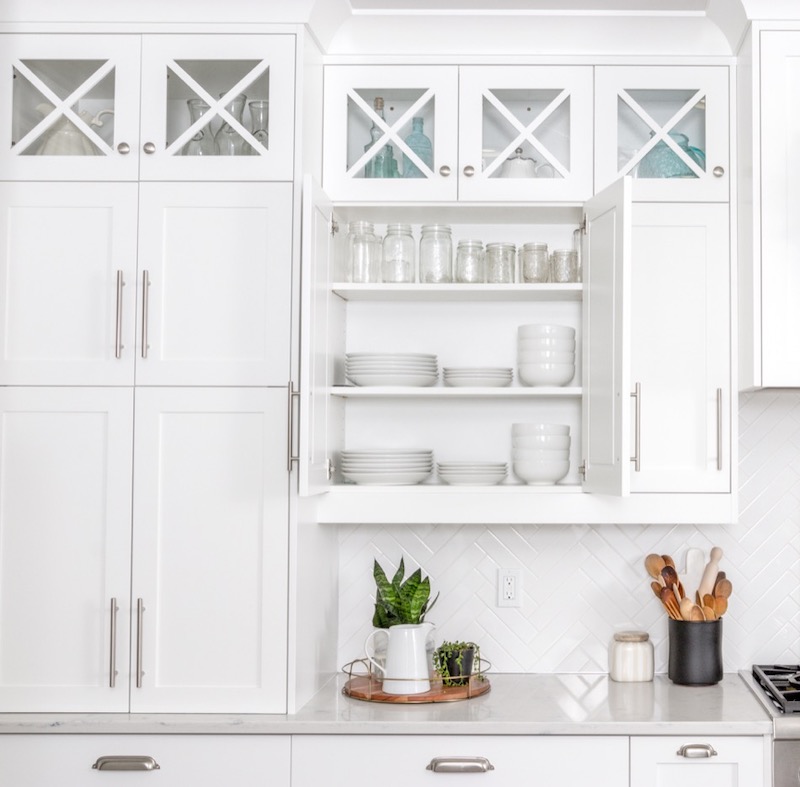 There are many styles of kitchen cabinets. Homeowners who plan to replace their kitchen cabinets should become familiar with these different styles before settling on the type to buy. The way the kitchen cabinet is maintained will depend in part on the style of cabinet that is installed. Some cabinets are lower maintenance than others, so homeowners should be aware of their choices before making a decision.
Shaker Style Cabinets
Easily recognized by their clean lines, geometric shapes and farmhouse style, Shaker cabinets are widely available with cabinet suppliers. Shaker style is especially popular because it fits so well in contemporary farmhouse kitchens.
Raised panels around the cabinet door and drawer edges give this cabinet its simple beauty. These raised panels can also harbor dirt along the edges, so homeowners with Shaker style cabinets must clean their cabinets regularly, especially in areas around the sink and stove, where splashes of food can become lodged on the cabinet surface.
Most Shaker style cabinets are best cleaned with a sponge and warm water mixed with mild dish detergent. Cleaning the cabinets regularly makes it easy to keep up with dirt and grime while keeping the cabinets looking their best for as long as possible.
Glass Front Cabinets
Glass front cabinets have become more popular along with open cabinetry. Many homeowners favor these styles because they like the openness and airiness that both styles promote. Glass front cabinets can be very attractive if the glass is kept clean.
Dirty glass can be an eye sore, so glass cabinets must be cleaned regularly, inside and outside. It's not just the glass that need to be kept clean, but also the inside of the cabinets themselves.
Messy cabinetry, full cabinets and mismatched plates can all leave a kitchen looking disorderly. Glass front cabinets are an appropriate choice only if your cabinets are orderly and attractive inside as well as out.
If you'd like to install glass front cabinets but are concerned that you won't be able to keep your cabinets tidy, consider installing glass front doors on only a few cabinets, leaving the rest of the cabinets closed off to the world. Put your best dishes in your glass cabinets, and leave mismatched or chipped dishes in the others.
Beadboard Cabinets
Beadboard is sometimes marketed as an alternative to Shaker cabinets. The look is distinctly farmhouse, similar to Shaker cabinets, but with a unique geometry. Whereas Shaker cabinets can be found all over, beadboard is not.
Beadboard cabinets are much like what you would expect, with a flat face and vertical lines running from top to bottom. They have an attractive, clean texture that appeals to many people.
The cost of beadboard can vary and can be difficult to clean. The indentations in this material can trap splashes from food, grime and grease. Beadboard must be cleaned early and often to prevent stains and grime from becoming a problem. For cleaning, use warm water with mild detergent; if that doesn't work, spray your cabinets with vinegar before wiping them down.
Slab Cabinets
Slab cabinets have doors with no decorations, carvings or raised panels. The doors of slab cabinets are as smooth and bare as surfaces come. They're strikingly simple in design, and because they have no cracks of crevices where food can lodge, they're also wonderfully easy to clean. Slab cabinets can be made from wood, metal, or nearly any material.
Plywood Cabinets
Plywood is a surprisingly popular material for kitchen cabinets. This durable, attractive material shouldn't shrink or expand, which makes it a much better material than particle board. Plywood is usually left in its naked color, producing cabinets that are an attractive blond. However, plywood can be painted or stained. When choosing plywood cabinets, take care to ensure the cabinets you choose are high quality to prevent any warping.
Natural (Unfinished) Wood Cabinets
One of the cheapest cabinet options for homeowners on a budget are natural (or unfinished) wood cabinets. Unfinished cabinets are meant to be installed by professionals and then finished by homeowners. For a homeowner who has time to do their own finishing, and who feels comfortable working with stain or paint, installing unfinished cabinets is an excellent way to get a good deal on quality cabinets.
Kitchen Cabinet Door Types
Cabinet doors and drawers come in different styles. Familiarizing yourself with these styles as well as their advantages and disadvantages can help you decide which type of cabinet doors and drawers are right for you. A price difference could be your deciding factor if you're on a budget.
Full-Overlay Cabinetry
Full-overlay doors and drawers have little or no gaps between them. Looking at the cabinets, you can't see the cabinet boxes: you are only able to see the doors and drawers themselves. Full-overlay cabinetry is a much cleaner design than partial-overlay cabinetry, but also requires a great deal of precision during the installation process.
One disadvantage of full-overlay cabinetry is if the doors or drawers are ever removed, there's less room for error when putting them back on.
Partial-Overlay Cabinetry
Partial-overlay cabinetry is cabinetry that shows a gap between doors and drawers, so the cabinet box itself is visible. Partial-overlay cabinetry is slightly less elegant than full-overlay cabinetry, but may be easier to work with during a refinishing, as the doors and drawers are easier to take off, adjust, and put back on.
Inset Cabinetry
With inset cabinetry, doors and drawers are set in the cabinet box frame, so the surface of the doors and drawers are flush with the box. Inset cabinetry is desirable for its clean lines and sophisticated construction. This cabinet style rose to popularity during the Victorian and Georgian times and remains popular today.
Kitchen Cabinet Door Styles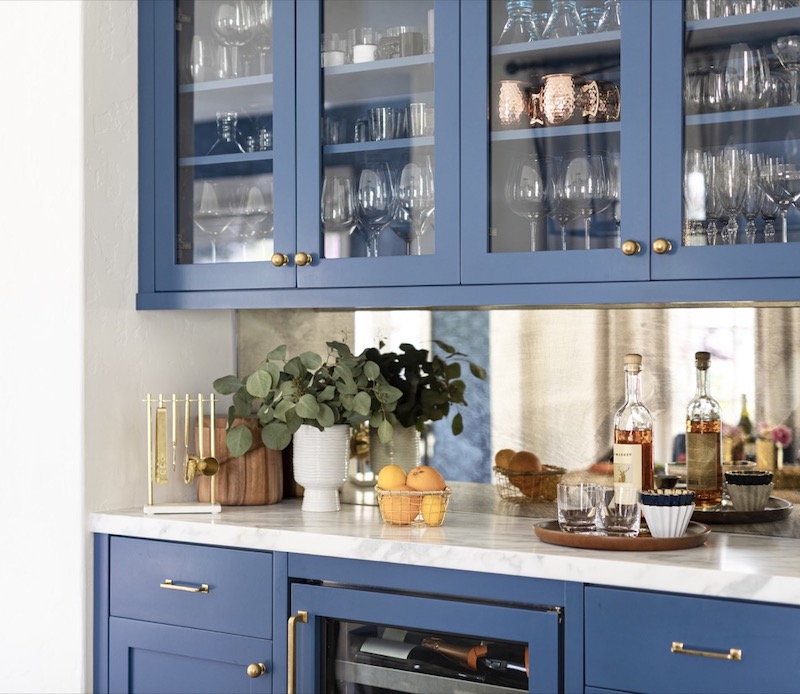 The cabinet doors are the most visible parts of the cabinets, so for many homeowners, the doors are the deciding factor when choosing a cabinet style. The differences between each style can be dramatic. The type of door you consider for your cabinets should depend on your style, the appearance of your kitchen, and how much time you're able to devote to cleaning your kitchen cabinets.
Remember that looks aren't everything. Some styles are much easier to maintain than others, and some styles are much more affordable than others. Work with a cabinet contractor to decide which style is best for you. Discuss the advantages and disadvantages, and consider all the factors before making your final decision.
If you already have cabinet doors in a style that you find satisfying, consider refinishing your cabinet doors instead of replacing them all together.
Raised Panel Door
Raised panel doors are similar to standard Shaker style doors, but have one difference: the center panel of the door is raised slightly above the outside of the door. In a raised panel door, the highest point of the door is the center panel.
While raised panel doors have the simplicity of a Shaker style door, raised panel doors include an extra added flair that makes them attractive in modern kitchens as well as traditional farmhouse style kitchens. This is a very popular style of cabinet door that can be made from all wood types. Raised panel doors look good when painted or stained.
These doors also have many variations, including arched tops. If you're considering raised panel doors, check the possibilities before settling on the style for you.
Recessed Panel Doors
Recessed panel doors have a lower interior panel, so that the outer edges sit higher than any other part of the door. Shaker style doors are a type of recessed panel, though recessed panels can get much fancier and varied in their design. Recessed panel doors are inherently more traditional and less modern. They look right at home in traditional kitchens.
Often, recessed panel doors are made from multiple material types. The raised outer edges are made from solid wood, while the lower interior panel is made from veneer. However, well-made doors of this type are meant to look like they're all made from one type of material.
Slab Doors
Slab doors have a perfectly smooth surface for easy cleaning. They present a modern look and construction that put focus on subtle changes in wood grain, on the color of the paint or stain, or on the room around them.
High-gloss finish on some slab doors produce attractive reflections that add visual interest to the room. If you're attracted to slab doors, installing a striking handle can add a decoration to your cabinets. Look for handles that are extra long or place them in an unusual location on the door to add beauty. Or, purchase doors in a bold color like blue or red.
Slab doors are most often found in contemporary style kitchens, paired with neutral colors, contemporary style handles and hardware. This is the right look for homeowners who like these clean, modern styles.
Some homeowners worry that slab doors are prone to warping. However, this is not usually the case with a solid construction in a high-quality door.
Mullion Frame Doors
Mullion frame doors are similar to standard glass panel doors but have one difference: they're constructed with a delicate, decorative wooden lattice that adds beauty to the glass, breaking up its surface. Mullion frame doors come in different styles. Traditional mullions are straight and geometric, while modern mullions sometimes feature delicate curves.
Mullion frame doors are not as common as the standard recessed or raised panel doors. They have a decorative quality that make them more common in cabinets found in other parts of the house, like in cabinets in the living room or foyer.
Like other glass panel doors, mullion frame doors are most beautiful when the objects inside the cabinet are organized, uncluttered, and tidy. If you're not prepared to buy matching plates and throw out old cups you no longer need, consider installing mullion frame doors on some cabinets, leaving others with solid doors that cannot be seen through.
Open Frame Doors
Open frame doors consist of a frame around glass. Like mullion frame, open frame doors allow anyone to see what's behind the doors. Open frame doors provide an unobstructed view into the cabinet. These doors are perfect for displaying art or decorative plates, but less optimal for hiding a cabinet full of Tupperware.
Give careful consideration to the things you keep behind your cabinets before installing open frame doors. Like mullion frame style, open frame doors may be ideal for some cabinets and not others.
How to Choose Cabinet Knobs and Pulls
Cabinet knobs and pulls are important for drawers and doors because they protect the finish. Without a knob or pull, cabinets may still open, but you'll find yourself scratching at the surface to open it. By selecting the right cabinet knobs and pulls, using your cabinets and drawers becomes easier and faster.
When choosing knobs and pulls, take into consideration a variety of factors, including aesthetics, material and functionality. Some knobs and pulls are easier to grasp than others.
Knob or Pull?
In general, knobs are for doors and pulls are for drawers. Some homeowners will pick only one or the other, but not both. A knob is generally a round protrusion that allows for easy grasping. Knobs can also come in other shapes, like a square or rectangle.
Pulls are bars that can be tugged on to open the door or drawer. Pulls are generally preferred for drawers because they're easier to grasp. When a drawer gets heavy, pulls make using the drawer easier. Some homeowners choose only pulls for their doors and drawers because they match.
When trying to decide whether a knob or a pull is better, sample each choice before making your decision. Consider more than just the aesthetics; if you're replacing the hardware on your cabinets, put the pull or knob on one of the doors or drawers where it would be installed. Do this to be sure the size of the knob or pull will work in the holes that have already been made.
Hold the pull and/or knob in your hand as well. Hardware that is too small or that has hard edges could be less comfortable to use.
Decide on Shape
When trying to choose a knob or pull of the proper shape, consider the aesthetics in the room as well as your own comfort. A strange shape might look good on its own but could seem out of place in your kitchen. Hold the knob or pull up to the drawers or doors to be sure that the shape will match its surroundings.
Consider the Finish
The finish you choose for your knobs and pulls should depend in part on the finish of the other fixtures in your kitchen. While it's common for homeowners to choose matching finishes, modern homeowners sometimes choose knobs and pulls with a mismatched finish to intentionally add color and visual interest in their kitchen. If this is a path you would like to take, then hold the potential knobs and pulls up to the finishes elsewhere in the kitchen to consider how they'll look in the same room together.
Try Out Before Purchasing
Most of all, it's important to choose a pull or knob that will work for you. While it may not seem like a big commitment, knobs and pulls can be expensive, and installation can be time-consuming. Once the hole for the knob or pull is made, switching to a different style can sometimes be difficult or even impossible.
You'll want to be sure before you pick a knob or pull that's right for you. Some companies will send sample knobs or pulls in the mail to homeowners who would like to try theirs out before buying. If you've chosen a knob or pull online, contact the company before making your final decision.
Install Hardware
Installing hardware in your cabinets is simultaneously simple and tricky. On the one hand, it's easy enough to drill a hole through wood (if you have the right tools) and then screw in a knob or a pull. On the other hand, you'll have to take precautions to ensure that your knobs and pulls are in the right place. Putting the hardware in the wrong place could result in mismatched-looking cabinets, and once the hole is drilled, it cannot be undone.
Tools
Ruler
Pencil
Piece of cardboard
Hammer
Nail
Drill
3/16" bit
Screw driver
Knob
Make a Cardboard Template First
The easiest way to ensure that your knobs will all be positioned in the right spot is to make a cardboard template. To do this, first decide where the knob will be located on the door. Center the knob using a ruler. Next, place a piece of cardboard over the door, with the lower right hand corner of the cardboard aligned with the lower right hand corner of the door.
Finally, hammer a small nail through the cardboard and just barely into the pre-determined spot where the knob will go. This piece of cardboard with a hole in it is now your template. To ensure that every knob is placed in the same spot on each drawer, simply align the right corner of the cardboard with the right corner of the drawer, then tap a small nail through the hole in the cardboard into the surface of the drawer. The small hole made in the surface of the door is the drill spot.
To install knobs on doors:
Create a template as described above.
Tap a small locator hole into each drawer using a nail and the template.
Use the drill bit to drill a hole into the locator holes in each drawer.
Use a screw driver to screw the knobs into place.
Repeat this process to install pulls on all drawers.
Pro tip: Drill a practice hole through a piece of scrap wood before drilling a hole through your cabinets to ensure that the drill bit is the right size for your knobs.
Under Cabinet Lighting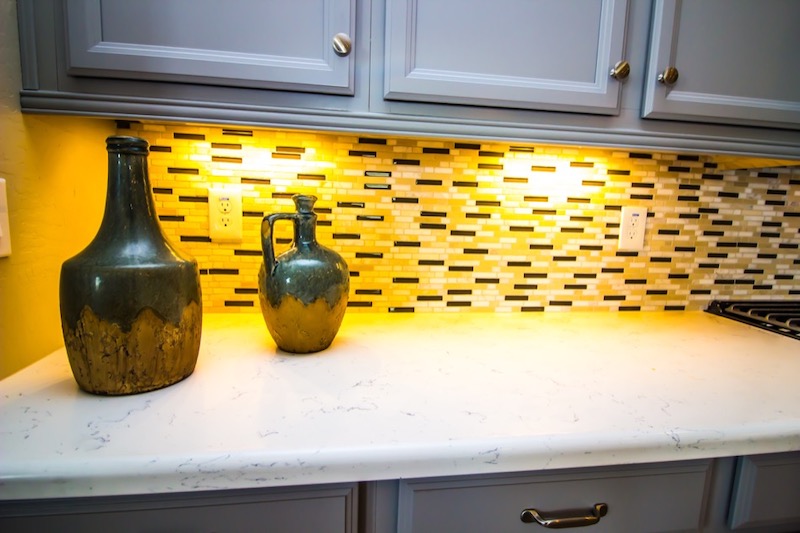 Under cabinet lighting has been growing in popularity for several years. Good lighting is an important feature in a functional kitchen. If you're installing new cabinets, get a quote from your contractor for under cabinet task lighting.
Why Install Under Cabinet Lighting?
Strong illumination is an important feature in any kitchen. Under cabinet lighting makes chopping vegetables and cleaning counters easier by enabling you to see what you're doing. Additionally, under cabinet lighting increases the value of your home and makes your kitchen more attractive at night. Under cabinet lighting is good for ambiance and helps make your kitchen more inviting by eliminating shadow.
What Should You Look for In Under Cabinet Lighting?
Some of the most important things to look for when installing under cabinet lighting include:
Dimming capability. This is an excellent feature — though not necessary if you're on a budget.
Energy efficiency. LED lighting is energy-efficient and therefore costs less and makes less impact on your utility bill.
Ease of installation. This is especially important whether you're installing lighting on your own or having it installed professionally; work with a contractor to choose task lighting that's easy to install.
How to Install Under Cabinet Lighting
Under cabinet lighting is not the most basic lighting installation that a homeowner can install. Unless you're comfortable working with electricity and have the right tools, hire an electrician or a contractor to install your under cabinet lighting.
If you do feel comfortable installing your own under cabinet lighting, here are some tips to follow:
Run the wires either through your basement, crawl space or attic.
Check local codes to ensure that you're performing the installation correctly.
When in doubt, work with a contractor.
Finally, installing under cabinet lighting, whether it's puck lighting or strip lighting, may require you to cut quite a few holes in your kitchen walls. Take care to avoid puncturing any plumbing vents, electrical wires or gas lines. Finally, know where the studs are in your kitchen before cutting holes in your walls. Don't cut a hole in any studs!
Types of Under Cabinet Lighting
There are several types of under cabinet lighting, including:
LED lighting. LED lights are becoming increasingly popular because of their excellent energy efficiency.
Fluorescent lighting. Fluorescent lighting is long-lasting and efficient, but the light bulbs must be properly disposed when they stop functioning, which can be inconvenient.
Xenon lighting. Xenon lighting is a type of incandescent lighting; it is less energy efficient than many other types of lighting, but the light itself is very attractive.
Halogen lighting. Halogen lighting is an improved version of the incandescent light, offering a longer lifespan.
If you're not sure which type of under cabinet light to install, view the different options in person before selecting the type of lighting for you.
How to Paint Kitchen Cabinets
Painting your kitchen cabinets is an excellent way to change the appearance of your cabinets without the expense of a full replacement. Painting can be time consuming, so keep your expectations realistic.
Painting Tips
Gather all the materials. Painting requires a lot of materials, so make a comprehensive list of materials and buy everything before getting started. If you've never painted kitchen cabinets before, watch or read a tutorial before making your list. Doing research before getting started can help you decide which materials you'll need to paint your cabinets.
Label all doors and drawers. You'll have to remove the doors and drawers. Getting them back in the right spot when the work is done can be tricky. Make a map of your kitchen, numbering all doors and drawers on the map. Then, label all doors and drawers with corresponding numbers. This will make it easier to put the right doors and drawers back in the correct spots when you're ready.
Take everything out of your cabinets. The best way to ensure that your dishes and bowls aren't accidentally splattered with paint is to empty out the contents. If you wish to leave items in your doors and drawers, cover your dishes with plastic.
Set up a temporary kitchen. With everything emptied from your kitchen cabinets, you'll be unable to use your kitchen for a little while. Set up a temporary kitchen somewhere else in your house (maybe your garage) so you can continue preparing basic foods.
Clean cabinets. Before painting, remove all grime from the cabinets. Because grease can build up on cabinets over time, use a de-greaser to clean the wood.
Sand and prime cabinets. Sand the cabinets to rough up the wood and create a surface the paint can adhere to. Sometimes, a chemical deglosser is enough. Apply primer to the cabinets and allow the primer to dry for the amount of time specified on the can.
Create a DIY paint station. Set up a station — either outside in your driveway or in a room of your house — where you can paint your cabinets. You'll need a work bench or a work table. The area needs to be well-ventilated, especially if you're working with an oil-based product.
Apply multiple coats. Cabinets take a lot of abuse. Some of them are opened and closed daily, and they're also cleaned regularly. Applying multiple coats will make the paint more durable and longer-lasting.
Give yourself enough time. Painting cabinets is not a small job. For a homeowner working with a partner or friend, painting or staining cabinets is the kind of job that cannot be easily finished in a weekend. Drawers and doors must be fully removed, painted and dried on each side, and then re-attached.
Get Started Today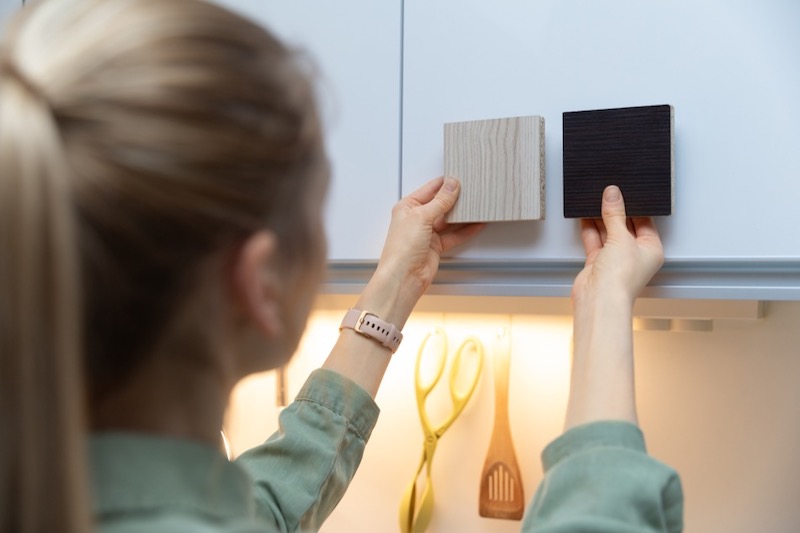 When it comes to selecting your kitchen cabinets and all the elements included in this project, personal preferences and the budget are the primary considerations. Luckily, there are many styles, materials, and colors to choose from. Get started today with a professional or make this your next DIY project.
If you're hiring a contractor, vet several contractors before choosing the right one for you. If you're painting or staining your cabinets, sample several different types of paint or stain before making your selection. Taking your time and doing research will help ensure satisfaction with the final product.